The 3rd international Conference on Pharmaceutical, Biological Sciences and Applied Chemistry
November 12, 2023
2023-11-12 14:41
The 3rd international Conference on Pharmaceutical, Biological Sciences and Applied Chemistry
The Fourth International Scientific Conference of the College of Physical Therapy on Thursday, February 29, 2024. To help Physiotherapy contribute more meaningfully to planetary health and well-being.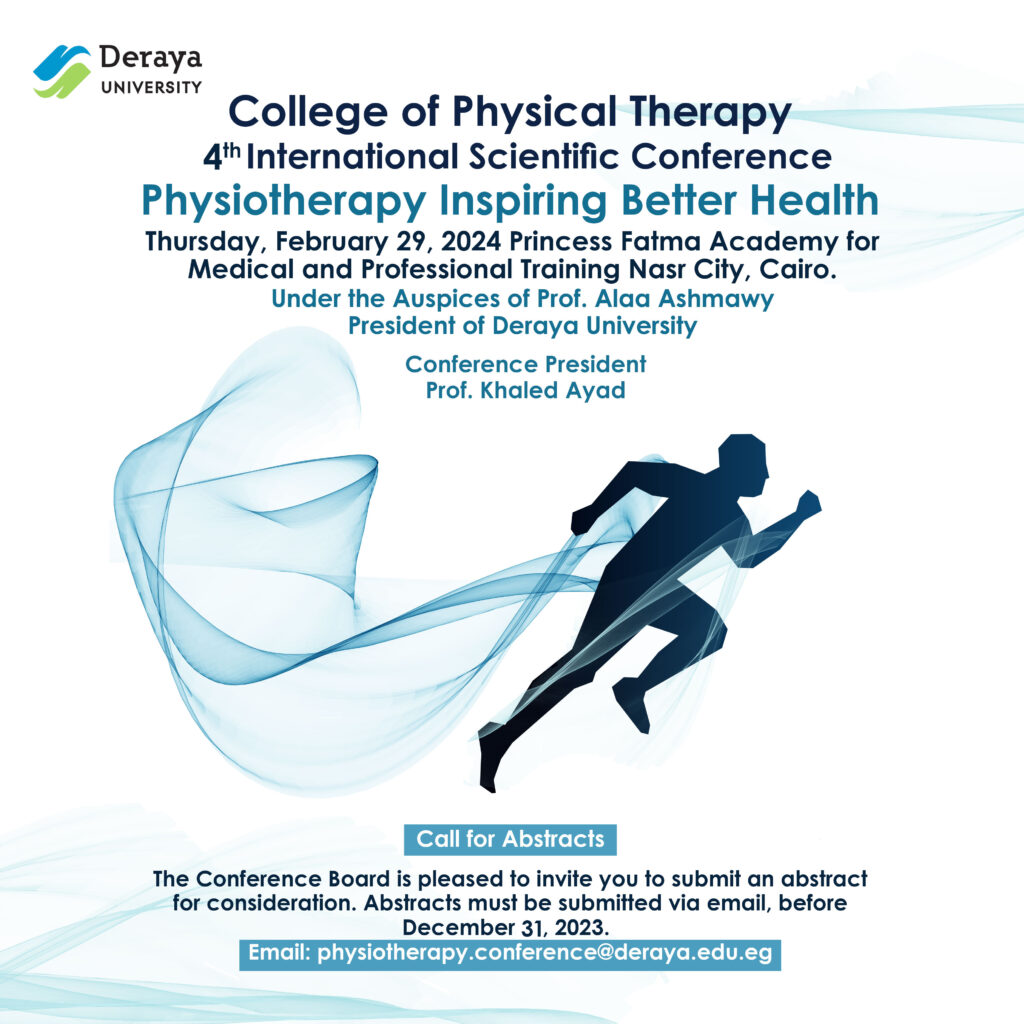 Conference Vision and Aims
Conference Themes and Subtopics
Guidelines for the Abstract 
The College of Physical Therapy at Deraya University aims to prepare highly competent physiotherapists who are fully equipped with cutting-edge knowledge and versatile professional skills needed to put them among the highest-ranked physiotherap professionals nationally and globally.
Under the auspices of Prof. Alaa Ashmawy, Deraya University President,
We are honored to invite You to attend the Fourth International Scientific Conference of the College of Physical Therapy on Thursday, February 29, 2024, which aims to:
Exchanging of scientific and practical experiences and skills between international experts in the field of physical therapy.

Raising the scientific and therapeutic efficiency of physical therapists in health institutions to advance the profession and reach an outstanding level of performance.

Developing the practical skills of therapists based on scientific foundations by reviewing and discussing the best-participating research in the fields of physical therapy and rehabilitation, and highlighting the latest recommendations that can be applied in this field to serve the community.

The conference provides an opportunity for everyone to network, exchange ideas, and present their research to the international community. The discussion on the latest innovations, achievements, trends, practical problems, and challenges they face in various fields of physical therapy and rehabilitation.

Encouraging interdisciplinary research between different disciplines.

Developing researchers' capabilities to innovate in the field of scientific research.

Help physiotherapists apply the core competencies of the physical therapy profession, including effective communication, leadership, and professionalism, on a day-to-day basis in order to achieve an outstanding level of performance, and Highlight the latest recommendations and physical therapy practice breakthroughs.

Actively exploring existing and future relations between physiotherapy theory and practice and our planetary environment and health;

Being open to all ideas, practices, objects, disciplines, systems, and structures that can contribute to the exploration, development, and practice of more environmentally engaged physiotherapy;

Challenging physiotherapists to critically examine the profession's historical anthropocentrism and ecological agnosia;

Providing a platform for the latest research and developments in environmental physiotherapy;

To advance the study, understanding, and implementation of environmental sustainability and related policies like the UN Sustainable Development Goals in physiotherapy research, practice, and education;

To advance policy development with regard to planetary health within the physiotherapy profession and beyond;

Nurturing a positive, collaborative and supportive space for ideas that promote more environmentally engaged and responsible physiotherapy.

The Conference aims to highlight issues related to child nutrition around the world, foster cooperation between nations, and encourage countries to develop and improve school nutrition programs that return multiple benefits and address multiple Sustainable Development Goals.

Gathering high-level officials every year to discuss strategies to strengthen school feeding translates into stronger governmental commitment to school feeding and into positive impacts on education, health, and socio-economic indicators.

Integrate nutrition and health: Prioritize the role of nutrition and food security in overall health, including disease prevention and management, and ensure that our healthcare system addresses the nutrition needs of all people.

Enhance nutrition and food security research: Improve nutrition metrics, data collection, and research to inform nutrition and food security policy, particularly on issues of equity, access, and disparities.

Support physical activity for all: Make it easier for people to be more physically active (in part by ensuring that everyone has access to safe places to be active), increase awareness of the benefits of physical activity, and conduct research on and measure physical activity.
The university offers therapeutic caravans that roam the villages of Minya Governorate, each caravan consists of faculty members from the faculty of physiotherapy, oral and dental medicine, and pharmacy with contributions from some of the university's students.
The university physical therapy Outpatient clinics receive and treat free of charge more than 100 patients daily.
Professor/ Alaa K. Ashmawy
President of Deraya University
Professor/ Khaled Ayad
Dean of the College & President of the Conference
Enhancement of health: We examine how access to physiotherapy can minimize health inequalities, exploring patient experiences to understand preferences and needs, interventions, and models of service delivery that can improve outcomes.
Evolving practice:

Looking at evidence-based approaches to providing personalized, equitable, and effective care for those with acute and longer-term musculoskeletal conditions.
Essential rehabilitation: All about rehabilitation, and evidence about the intensity and mode of physiotherapy that can improve outcomes and experiences across settings.
Education & innovation: This theme considers education, learning, and leadership approach to developing the physiotherapy workforce, and how the workforce is navigating the healthcare system in different countries.
Conference date: Thursday 29/2/2024.

Location: The conference hall of the Ministry of Health (Princess Fatima Center) next to the stadium in Nasr City, Cairo.
Submitted research abstracts can be considered for oral presentations – as 'Short Talks' in the Symposia and 'Speed Talks' in special Speed Talk Sessions – and for poster presentations. Posters will be organized by topic, and opportunities for presenters to discuss their work with interested participants will be provided by designated poster sessions in the Conference schedule.
Abstracts must be submitted in English.

Abstracts must report new or recent substantive scientific results in Physical therapy.

At least some findings unpublished at the time of abstract submission should be included. Previously published results are also presented as part of the main findings. Any prior publication should be cited in the abstract.

The presenting author of the abstract must complete registration by December 31, 2023, to ensure abstract assessment and inclusion in the Conference.

Each registrant can submit only one research abstract for evaluation.

The same abstract cannot be submitted by different delegates.
These should preferably report research findings on aspects of teaching/learning, but other original contributions to current topics in Physiotherapy and career development are also welcome.

Each registrant can submit only one education abstract for evaluation, but may submit both a research and an education abstract from the same registration.

Other general points stated for research abstracts also apply to education abstracts.

Assessment and screening.

Abstracts will be assessed by members of the Scientific Programme Board in consultation with the Session Chairs.

All abstracts submitted to the Conference will be screened for relevance to the Conference' scientific content, and presentation. Abstracts not meeting the quality standards will not be accepted.

Abstracts submitted for consideration for oral presentation will be assessed for scientific quality, novelty, and fit with the Conference subtopics.

Abstract assessments as well as CVs will be considered in the appraisal of Conference bursary applications.

Notification of outcomes of assessment for oral presentation, Conference bursaries, and confirmation of acceptance of abstracts to the Conference, are expected to be available on January 20, 2024.
Main Abstract Submission deadline: December 31, 2023.
Please use Arial 11.

Abstract type: Enter either "research" or "experience/practice".

Line space after abstract type.

Title: Please be brief, in bold text (rest of text – regular), maximum of 100 characters.

Line space after title.

Line space after institutions.

Abstract: Follow this structure, if science is presented: Objective, methods, results, conclusions. If experience is presented, use any structure. No more than 300 words. Please avoid diagrams, illustrations, tables, references, or graphics.