New Era in Obesity Management
February 8, 2023
2023-02-11 12:25
New Era in Obesity Management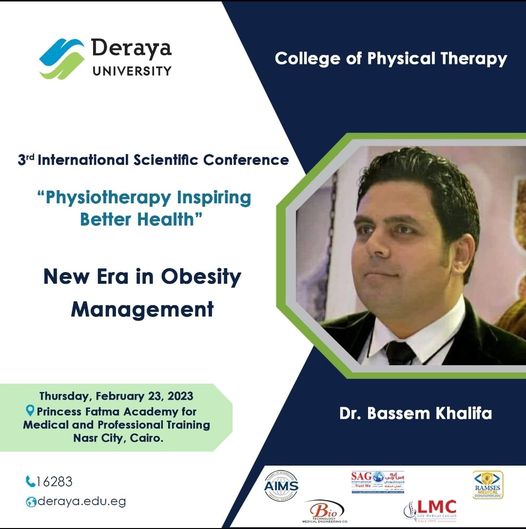 New Era in Obesity Management
College of Physical Therapy 3rd International Scientific Conference




Under the Title of




" Physiotherapy Inspiring Better Health "
The new era of obesity management is all about understanding the individual's behavior and needs in order to come up with a tailored and individualized plan in order to successfully attain health and lifestyle goals. Today's strategies involve incorporating healthier lifestyle choices, personalized nutrition plans, increased physical activity, and exploring viable weight-loss medications.
Dr.Bassem Khalifa will address an amazing lecture about;
New Era in Obesity Management
It has also become important to take a holistic approach to managing obesity, which means addressing underlying factors such as psychological factors, socioeconomic factors, and cultural factors.
Don't miss out on this opportunity to expand your knowledge and connect with like-minded individuals. Register now to secure your spot and access the conference
Date: Thursday, February 23, 2023
Location: Princess Fatma Academy for medical and professional training, Nasr City, Cairo
To Register fill out this Form 
Payment Methods:
1- University treasury 
2- Vodafone Cash (Please contact 01000128701 after payment)