SACROILIAC JOINT PAIN. THE GHOST
February 11, 2023
2023-03-26 9:44
SACROILIAC JOINT PAIN. THE GHOST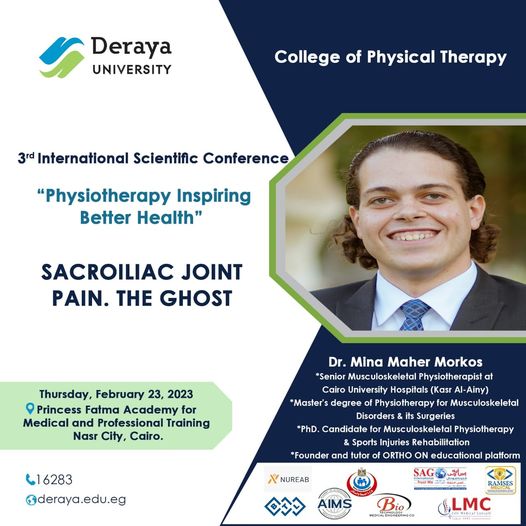 SACROILIAC JOINT PAIN. THE GHOST
College of Physical Therapy 3rd International Scientific Conference




Under the Title of




" Physiotherapy Inspiring Better Health "
Sacroiliac joint pain is a type of low back pain that originates from the sacroiliac joint, which connects the sacrum to the pelvis. The pain can be caused by various factors, including injury, arthritis, pregnancy, or biomechanical issues.
Dr.Mina Maher Morkosm Senior Musculoskeletal Physiotherapist at Cairo University hospital (Qasr-Ainy)
will address an amazing lecture about;
SACROILIAC JOINT PAIN. THE GHOST
The symptoms of sacroiliac joint pain may include pain, stiffness, and tenderness in the lower back, buttocks, or thighs. The pain may be sharp, dull, or achy and may worsen with prolonged sitting or standing, bending, or twisting.
The diagnosis of sacroiliac joint pain typically involves a physical examination, medical history, and imaging tests such as X-rays, CT scans, or MRI scans. Treatment options may include pain medication, physical therapy, injections, or surgery in severe cases.
Don't miss out on this opportunity to expand your knowledge and connect with like-minded individuals. Register now to secure your spot and access the conference
Date: Thursday, February 23, 2023
Location: Princess Fatma Academy for medical and professional training, Nasr City, Cairo
To Register fill out this Form 
Payment Methods:
1- University treasury 
2- Vodafone Cash (Please contact 01000128701 after payment)