Bracing For Scoliosis, Evidence, Types & Indications
February 6, 2023
2023-02-11 12:31
Bracing For Scoliosis, Evidence, Types & Indications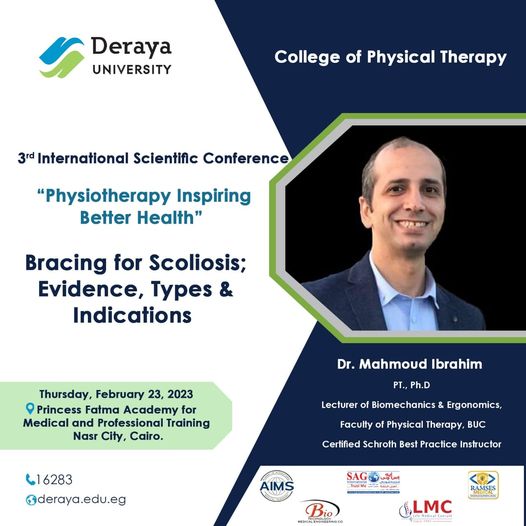 Bracing For Scoliosis, Evidence, Types & Indications
College of Physical Therapy 3rd International Scientific Conference
Under the Title of
" Physiotherapy Inspiring Better Health "
Scoliosis is a condition that causes the spine to curve abnormally to the side. Bracing for scoliosis is a treatment option that involves wearing a brace to help prevent the progression of the spinal curve.
Evidence for the effectiveness of bracing in scoliosis treatment is mixed. While some studies have shown that bracing can slow the progression of scoliosis in children and adolescents, other studies have found that bracing is not effective in all cases. The most effective use of bracing is still being researched and may depend on factors such as the severity of the curve and the age of the patient.
Dr. Mahmoud Ibrahim

Lecturer of biomechanics and ergonomics faculty of Physical therapy, BUC will address an amazing lecture about; 
Bracing For Scoliosis; Evidence, Types & Indications
Bracing for scoliosis is a treatment option that can be effective in certain cases, but its effectiveness depends on several factors and should be determined on a case-by-case basis by a medical professional.
Join the conference and Register now!
Date: Thursday, February 23, 2023
Location: Princess Fatma Academy for medical and professional training, Nasr City, Cairo
To Register fill out this Form 
Payment Methods:
1- University treasury 
2- Vodafone Cash (Please contact 01000128701 after payment)