Rehabilitation Tips for senior patients Recovering from hip surgery
February 6, 2023
2023-02-11 12:31
Rehabilitation Tips for senior patients Recovering from hip surgery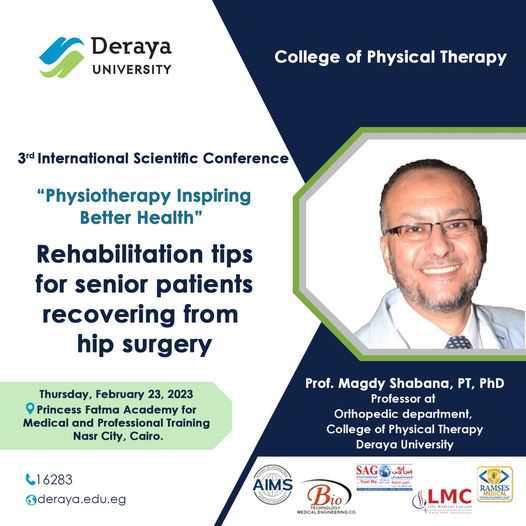 Rehabilitation Tips for senior patients Recovering from hip surgery
College of Physical Therapy 3rd International Scientific Conference
Under the Title of
" Physiotherapy Inspiring Better Health "
Rehabilitation is a crucial part of the recovery process for senior patients who have undergone hip surgery. To maximize the chances of a full and successful recovery, it is important for seniors to follow their physical therapist's instructions carefully, and to engage in exercises to strengthen the muscles surrounding the hip joint. This may include low-impact activities such as walking, cycling, and swimming, as well as targeted strength training exercises.
Magdy Shabana, Associate Professor of physical therapy for the Orthopedic faculty of Physical Therapy Deraya University will address an amazing lecture about; 
Rehabilitation Tips for Senior Patients Recovering from Hip Surgery
It is also important for seniors to maintain a healthy diet, manage their pain through appropriate medications and techniques, and get adequate rest to help the body heal. Communication with medical professionals loved ones, and support groups can also provide emotional and practical support during the rehabilitation process.
Join the conference and Register now!
Date: Thursday, February 23, 2023
Location: Princess Fatma Academy for medical and professional training, Nasr City, Cairo
To Register fill out this Form 
Payment Methods:
1- University treasury 
2- Vodafone Cash (Please contact 01000128701 after payment)