The value of Diagnostic TMG measurement in RTP Decision
February 6, 2023
2023-02-11 12:26
The value of Diagnostic TMG measurement in RTP Decision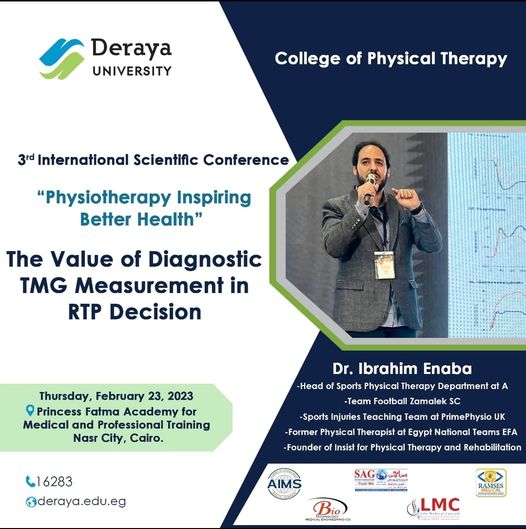 The value of Diagnostic TMG measurement in RTP Decision
College of Physical Therapy 3rd International Scientific Conference
Under the Title of
" Physiotherapy Inspiring Better Health "
Diagnostic TMG measurement is a valuable tool in RTP (Real-Time Protocol) decision-making because it provides information on the quality of RTP connections. This information is crucial for ensuring smooth and reliable audio and video communication over IP networks.
Dr. Ibrahim Enba, Head of the Physical Therapy department at the El-Zamalek Football team, will address an amazing lecture about; 
The value of Diagnostic TMG Measurement in RTP Decision
TMG (Time Management Group) measurement can be used to monitor network jitter, packet loss, and round-trip time, which are critical factors that affect the quality of RTP connections. By measuring these parameters, RTP decision-makers can make informed decisions on how to optimize the network for real-time communication, including adjusting network bandwidth, adjusting packet sizes, and implementing Quality of Service (QoS) policies.
Join the conference and Register now!
Date: Thursday, February 23, 2023
Location: Princess Fatma Academy for medical and professional training, Nasr City, Cairo
To Register fill out this Form 
Payment Methods:
1- University treasury 
2- Vodafone Cash (Please contact 01000128701 after payment)