Impact of Physical Activity on Pelvic floor Muscle
February 4, 2023
2023-02-11 12:27
Impact of Physical Activity on Pelvic floor Muscle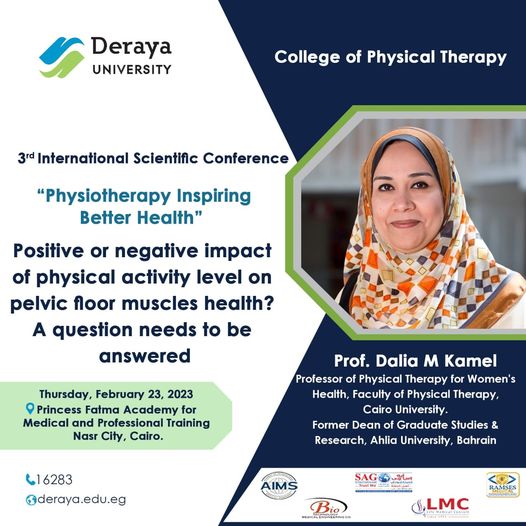 Impact of Physical Activity on Pelvic floor Muscle
College of Physical Therapy 3rd International Scientific Conference
Under the Title of
" Physiotherapy Inspiring Better Health "
Hosts Prof. Dalia M. Kamel is a renowned conference speaker and a professor of physical therapy for women's health at the Faculty of Physical Therapy, Cairo University. With a wealth of knowledge and expertise in her field, she is highly respected among her peers and is known for delivering engaging and informative presentations on a variety of topics related to physical therapy and women's health. Prof. Kamel is also an active researcher and has published numerous papers and articles on the latest developments and advancements in her field. Her passion for improving women's health through physical therapy makes her a sought-after speaker at conferences and events.
Join the conference and get benefits with her talk about;
Positive Or Negative Impact of Physical Activity Level on Pelvic floor Muscle Health
Physical activity level has a significant impact on the health of pelvic floor muscles. Regular physical activity can help to strengthen the muscles in the pelvic floor, which can lead to improved bladder and bowel control, as well as reduced symptoms of pelvic organ prolapse. On the other hand, inactivity and a sedentary lifestyle can weaken the pelvic floor muscles, leading to a greater likelihood of incontinence and other pelvic floor disorders. It is important for individuals to engage in regular physical activity and maintain a healthy weight to promote optimal pelvic floor health. Additionally, certain high-impact activities such as running and jumping should be approached with caution as they can put additional stress on the pelvic floor muscles.
Date: Thursday, February 23, 2023
Location: Princess Fatma Academy for medical and professional training, Nasr City, Cairo
To Register fill out this Form 
Payment Methods:
1- University treasury 
2- Vodafone Cash (Please contact 01000128701 after payment)