Guidelines for the Management of Cervical Radiculopathy
February 11, 2023
2023-03-26 9:44
Guidelines for the Management of Cervical Radiculopathy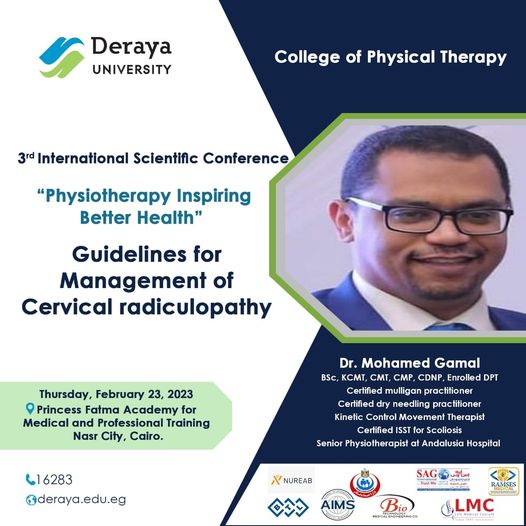 Guidelines for the Management of Cervical Radiculopathy
College of Physical Therapy 3rd International Scientific Conference




Under the Title of




" Physiotherapy Inspiring Better Health "
Cervical radiculopathy is a condition that occurs due to the compression or irritation of a nerve in the neck, leading to pain, weakness, or numbness in the arms or hands. There are some general guidelines for the management of cervical radiculopathy.
Dr.Mohaned Gamal
will address an amazing lecture about;
Guidelines for the Management of Cervical Radiculopathy
The following are general guidelines for

Cervical Radiculopathy
:
Conservative treatment: Non-surgical treatment options such as rest, physical therapy, and medication may be effective in relieving symptoms.
Pain relief: Pain can be managed with non-steroidal anti-inflammatory drugs (NSAIDs), such as ibuprofen, or other pain relievers.
Steroid injections: If conservative treatment does not work, corticosteroid injections may be recommended to reduce inflammation and pain.
Surgery: In severe cases, surgery may be necessary to relieve pressure on the affected nerve. However, surgery is usually considered only after other treatments have failed.
Monitoring: It is important to monitor the condition and make any necessary changes to treatment as needed.
It is recommended to seek medical advice if you experience any symptoms of cervical radiculopathy.
Don't miss out on this opportunity to expand your knowledge and connect with like-minded individuals. Register now to secure your spot and access the conference
Date: Thursday, February 23, 2023
Location: Princess Fatma Academy for medical and professional training, Nasr City, Cairo
To Register fill out this Form 
Payment Methods:
1- University treasury 
2- Vodafone Cash (Please contact 01000128701 after payment)