Smartphone Applications for Exercise Guidelines and cardiac Rehabilitation: Evidence-Based Practice
February 11, 2023
2023-02-11 14:07
Smartphone Applications for Exercise Guidelines and cardiac Rehabilitation: Evidence-Based Practice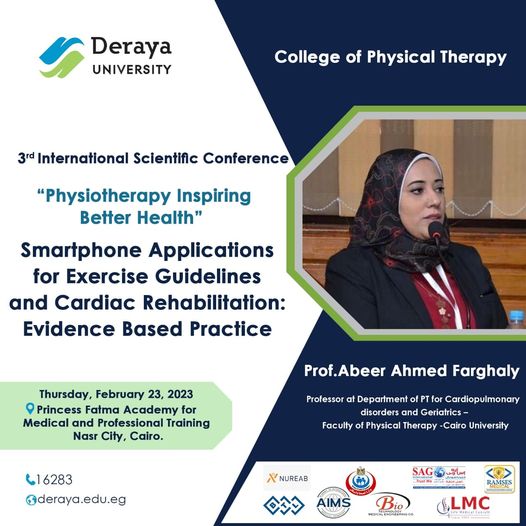 Smartphone Applications for Exercise Guidelines and cardiac Rehabilitation: Evidence-Based Practice
College of Physical Therapy 3rd International Scientific Conference




Under the Title of




" Physiotherapy Inspiring Better Health "
Smartphone applications have the potential to assist individuals in adhering to exercise guidelines and cardiac rehabilitation programs. Evidence-based practice has been incorporated into many of these applications to ensure their effectiveness. These applications provide features such as tracking of physical activity, personalized exercise programs, reminders, and goal setting to help users achieve their fitness goals. Additionally, many applications incorporate feedback and guidance from health professionals, such as physical therapists or exercise physiologists, to ensure safe and effective exercise prescriptions.
Prof. Abeer Ahmed Farghaly, Professor of physical therapy for cardiopulmonary and geriatric faculty of Physical Therapy, Cairo University

will address an amazing lecture about;
Smartphone Applications for Exercise Guidelines and Cardiac Rehabilitation: Evidence-Based Practice
Many cardiac rehabilitation programs have integrated smartphone applications to promote adherence to home-based exercise programs. These applications offer users access to educational resources, such as videos and informational content, that provide evidence-based guidance on how to safely and effectively perform the exercise. Users can also receive motivational messages and support from their healthcare providers and peers, which may increase adherence to exercise and ultimately improve outcomes.
Smartphone applications for exercise guidelines and cardiac rehabilitation offer evidence-based, personalized exercise prescription and tracking, educational resources, and motivational support to promote adherence to exercise and improve outcomes.
Don't miss out on this opportunity to expand your knowledge and connect with like-minded individuals. Register now to secure your spot and access the conference
Date: Thursday, February 23, 2023
Location: Princess Fatma Academy for medical and professional training, Nasr City, Cairo
To Register fill out this Form 
Payment Methods:
1- University treasury 
2- Vodafone Cash (Please contact 01000128701 after payment)