Enhancing healing time of fracture by FDA
February 1, 2023
2023-02-11 12:29
Enhancing healing time of fracture by FDA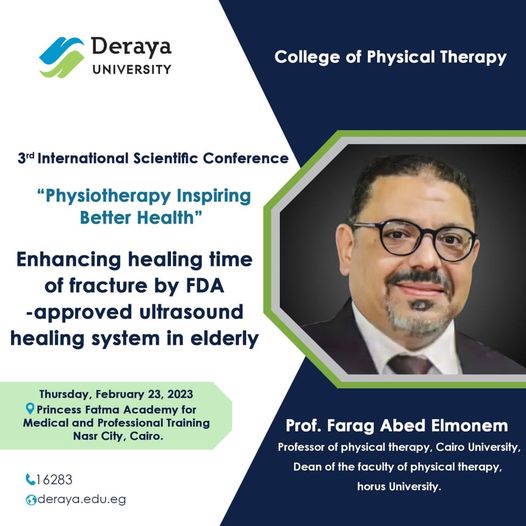 Enhancing healing time of fracture by FDA
College of Physical Therapy 3rd International Scientific Conference Under the Title of
" Physiotherapy Inspiring Better Health "
The physical therapy conference will feature a variety of speakers with unique perspectives on physical therapy. Each speaker provides valuable insight into the wide range of physical therapy topics, offering attendees an opportunity to learn from the various perspectives presented.
Prof. Farag Abed Elmonem Aly
Professor of physical therapy Cairo University,
Dean of faculty of physical therapy Horus University.
Who will give us an astonishing lecture under the title of
(Enhancing healing time of fracture by FDA -approved ultrasound healing system in elderly)
Date: Thursday 23 Feb 2023
Location: Princess Fatma Academy for medical and professional training – Nasr City – Cairo
To Register fill out this form 
Payment Methods:
1- University treasury 
2- Vodafone Cash (Please contact 01000128701 after payment)