Influence of Biofeedback and Task Oriented Training on Hand Skills in Children with Spastic Cerebral Palsy
February 8, 2023
2023-02-11 12:26
Influence of Biofeedback and Task Oriented Training on Hand Skills in Children with Spastic Cerebral Palsy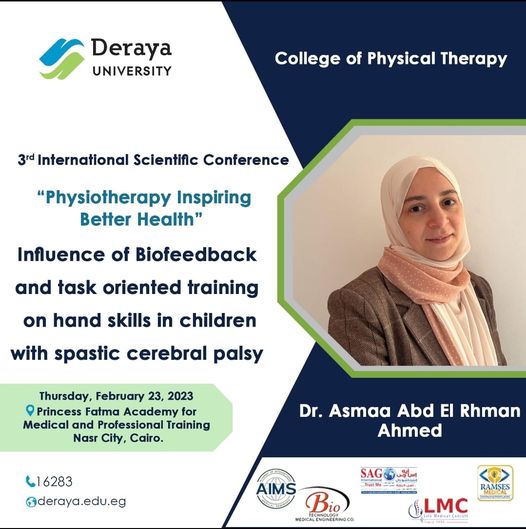 Influence of Biofeedback and Task Oriented Training on Hand Skills in Children with Spastic Cerebral Palsy
College of Physical Therapy 3rd International Scientific Conference




Under the Title of




" Physiotherapy Inspiring Better Health "
Biofeedback and task-oriented training have been shown to be effective in improving hand skills in children with spastic cerebral palsy. Biofeedback involves using sensory information to improve motor control and increase awareness of movements. Task-oriented training, on the other hand, focuses on performing functional activities that are meaningful to the individual.
Both approaches have been used to address the spasticity, weakness, and motor coordination issues associated with cerebral palsy. Dr.Asmaa Abd El-Rahman Lecturer of Physical Therapy for Pediatrics at Deraya University will address an amazing lecture about; 
Influence of Biofeedback and Task-Oriented Training on Hand Skills in Children with Spastic Cerebral Palsy
Research has demonstrated that combining these techniques can lead to improved dexterity, hand strength, and overall hand function in children with spastic cerebral palsy. However, it is important to note that individual results may vary and continued therapy is often necessary to maintain gains made through these approaches.
Don't miss out on this opportunity to expand your knowledge and connect with like-minded individuals. Register now to secure your spot and access the conference
Date: Thursday, February 23, 2023
Location: Princess Fatma Academy for medical and professional training, Nasr City, Cairo
To Register fill out this Form 
Payment Methods:
1- University treasury 
2- Vodafone Cash (Please contact 01000128701 after payment)