Manual Therapy vs Exercises for Nonspecific Neck or Back Pain
February 8, 2023
2023-02-11 12:26
Manual Therapy vs Exercises for Nonspecific Neck or Back Pain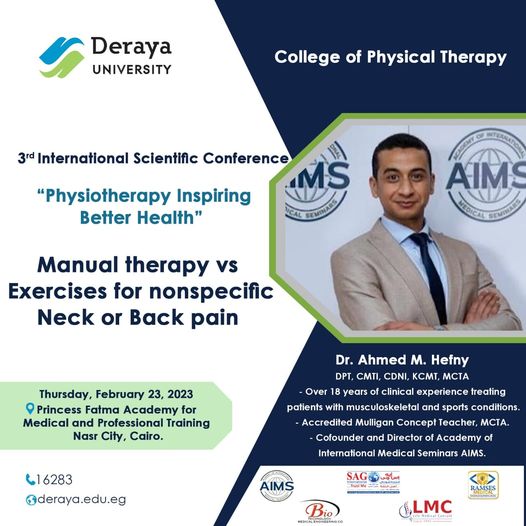 Manual Therapy vs Exercises for Nonspecific Neck or Back Pain
College of Physical Therapy 3rd International Scientific Conference




Under the Title of




" Physiotherapy Inspiring Better Health "
Manual therapy and exercises both have a role in the treatment of nonspecific neck or back pain. Manual therapy, such as spinal manipulation, can help to reduce pain and improve mobility in the affected area.
Dr.Ahmed M. Hefny,
DPT, Certified Mulligan concept teacher, MCTA

will address an amazing lecture about;
Manual Therapy vs Exercises for Nonspecific Neck or Back Pain
Exercise can help to improve strength, flexibility, and overall function, thereby reducing the likelihood of future pain. The choice between manual therapy and exercise will depend on the specific needs and goals of each individual patient. It's also common for a treatment plan to include both manual therapy and exercise for optimal results. Consult with a healthcare professional for personalized recommendations.
Don't miss out on this opportunity to expand your knowledge and connect with like-minded individuals. Register now to secure your spot and access the conference
Date: Thursday, February 23, 2023
Location: Princess Fatma Academy for medical and professional training, Nasr City, Cairo
To Register fill out this Form 
Payment Methods:
1- University treasury 
2- Vodafone Cash (Please contact 01000128701 after payment)