Social Responsibility
April 18, 2022
2023-08-24 22:56
Social Responsibility
Deraya University places a strong emphasis on hands-on, practical learning through partnerships with non-profits, government organizations, and volunteer efforts. Its Social Responsibility program provides resources and support to facilitate collaboration between students, faculty, and staff with external partners to serve communities in meaningful ways.
"Deraya empowers you to make a difference in the world around you by working to solve issues affecting our community"
Volunteer Student Activities
Medical caravans in Deraya refer to mobile medical units that provide medical services to remote or underserved areas in the Upper Egypt. These caravans typically include a team of Dentists, and Physical therapists, and other healthcare professionals who roam to different locations to offer medical consultations, diagnostic tests, and treatments to patients in need. The caravan's goal is to improve access to healthcare for people living in rural or impoverished areas where healthcare infrastructure is limited.
Deraya educational caravans are dynamic educational units that travel through Upper Egypt areas to provide educational services for high school students. These caravans typically include a team of highly-qualified teachers providing instruction in various subjects. They also often provide health and wellness services, as well as other community support. The goal of these caravans is to improve access to education for students living in Upper Egypt and to help bridge the educational gap between these communities and urban areas.
Volunteer Student Activities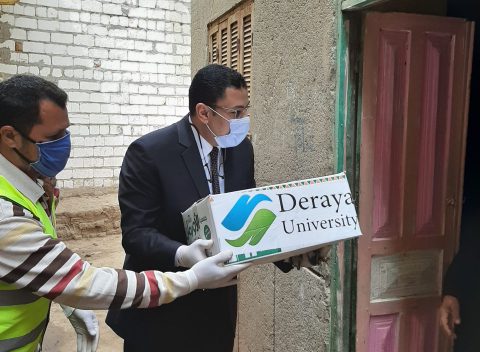 Deraya University participated in supporting citizens affected by the Corona crisis, especially temporary daily workers, and about 560 families were assisted in cooperation with the Al-Orman Association in April 2020.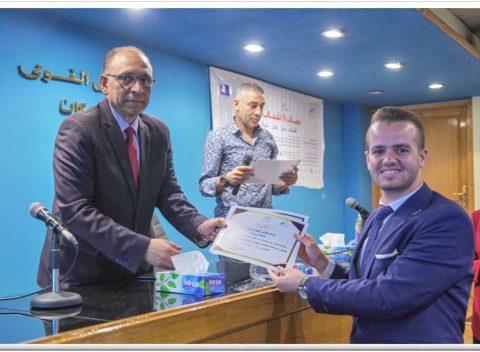 Deraya University participated in planning and implementing the activities of the "Youth of Egypt Initiative" which aims to integrate university students and increase their role in volunteering. This was in collaboration with UNICEF and the Ministry of Health and Population
Deraya University, New Minia
Tel:  01271878682 – 01210968993 – 01090549902 – 0862110026
student.admission@deraya.edu.eg    –    student.affairs@deraya.edu.eg  –  commuincation.center@deraya.edu.eg