Ranking & Classification
April 17, 2022
2023-08-24 22:18
Ranking & Classification
Welcome to our classification and ranking page, where we provide information on how our university ranks compared to other universities, as well as how we classify our academic programs and Research. Below you will find a brief overview of the sections you can expect to find including our overall rank, ranking by region, and among Egyptian universities. This section helps you understand our reputation and how we compare to other universities.
Deraya University Ranking at Webometrics;
According to the sustainable development ranking by Times Higher Education, Deraya University has achieved a notable position;
Good health and well-being: Ensure healthy lives and promote well-being for all at all ages - Deraya 53.3/63.6
No Poverty: End poverty in all its forms everywhere - Deraya 34.1/47.4
Quality Education: Ensure inclusive and equitable quality and promote lifelong learning opportunities for all - Deraya 2.9 / 33.6
Partnerships for the goals: Strengthen the means of implementation and revitalize the global partnership for sustainable development - Deraya 1.6 / 41.4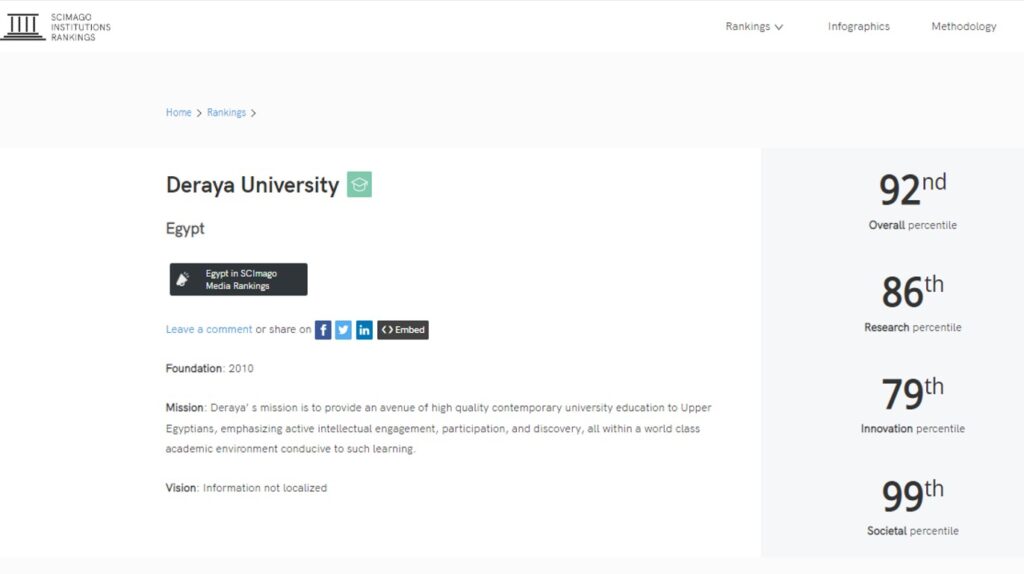 Scimago Methodology of Ranking; The information below provides a quick snapshot of recent scientific achievements. The research ranking refers to the volume, impact, and quality of the institution's research output. The institution's total number of patent applications and the number of patent citations for its research output are used to determine its innovation rating. Finally, yet importantly, the societal rating is determined by the number of pages on the institution's website and the quantity of social media mentions and backlinks.
92nd Overall percentile
86th Research percentile
79th Innovation percentile
99th Societal percentile
Scimago Journal Rank (SJR)
Classification according to Scimago Journal Rank  (SJR) 
Publishing profile, These are the journals used by the university's researchers to publish their work in the last year. This visualization allows you to identify the knowledge areas where Deraya University has published, recognize the prestige of the scientific journals in which the university's research has been published, and identify predominant scientific communities.            
We are committed to providing a high-quality education to our students and supporting their academic and personal growth. We hope you find our ranking page informative and useful, and we welcome your feedback and suggestions.