About The Event
It the time to announce one of the biggest surprises in the 3rd international conference "Physiotherapy Inspiring Better Health"
Join the conference and book your 4 Hours credited Hands-On workshop with one of the most amazing physical therapists in the world, Dr. Daniel Martínez Silván
Head Physiotherapist- Aspire Academy and Aspetar Orthopedic and Sports Medicine Hospital QATAR. Associate professor for Physiotherapy Degree at Universidad Europea Miguel de Cervantes (UEMC). Head of Physiotherapy Department at Valladolid sports club – Spain. Team physiotherapist U20 World Championships Qatar National team.
Dr. Silván is dedicated to providing top-notch care and rehabilitation to athletes and patients with musculoskeletal conditions. His expertise in manual therapy, exercise prescription, and injury prevention has helped many patients return to their peak performance levels. With a passion for his work and a commitment to improving patient outcomes, Dr. Silván is a respected leader in the field of physiotherapy.
The workshop will be under the Title;




Clinical Approach to lower limb tendinopathies, theoretical and practical
The clinical approach to lower limb tendinopathies involves a combination of theoretical and practical strategies to diagnose and manage these conditions. Theoretically, tendinopathies are understood as overuse injuries resulting from repetitive stress on tendons, causing structural changes and pain. Practically, a thorough history and physical examination are essential for proper diagnosis. This includes an assessment of the joint range of motion, muscle strength, and tenderness at the affected tendon.
Register now and Get your credited certificate from Aspire academy and Deraya University
Date: Friday, February 24, 2023
Location: Princess Fatma Academy for medical and professional training, Nasr City, Cairo
To Register fill out this Form 
Payment Methods:
1- University treasury 
2- Vodafone Cash (Please contact 01000128701 after payment).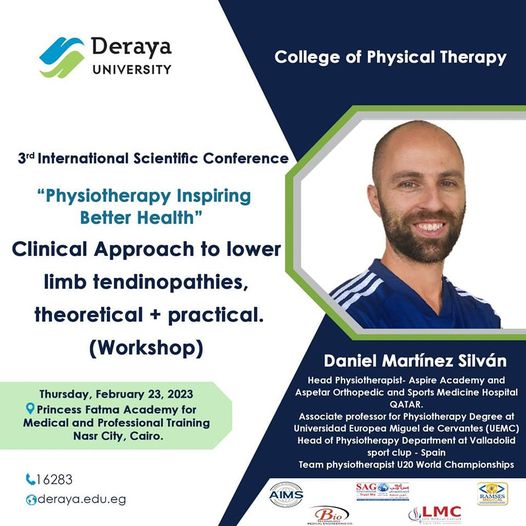 Location
Princess Fatma Academy for medical and professional training, Nasr City, Cairo
Deraya University