Head of the Egyptian Dental Syndicate in Al-Minya Visits Deraya University
January 17, 2022
2022-12-21 12:31
Head of the Egyptian Dental Syndicate in Al-Minya Visits Deraya University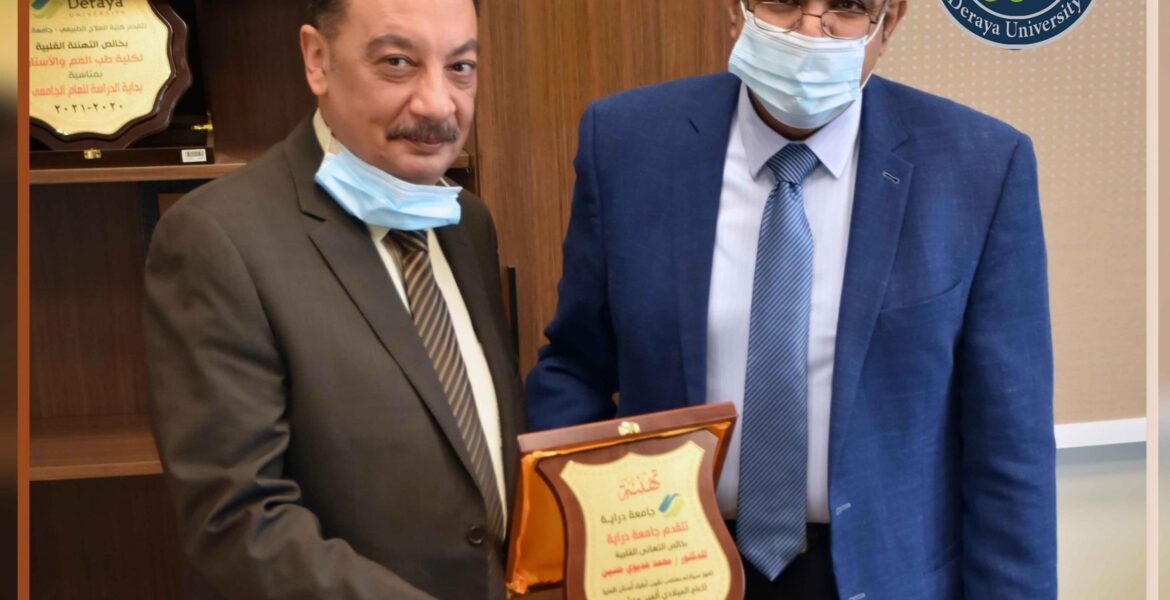 Head of the Egyptian Dental Syndicate in Al-Minya Visits Deraya University
The faculty of Oral and Dental Medicine at Deraya University was honored to welcome Dr. Mohamed Khedewy Hussein, the head of the Egyptian Dental Syndicate in Al-Minya, on Monday, December 14, 2020.
Prof. Shereen Foda, the Dean of the Faculty of Oral and Dental Medicine, warmly welcomed Dr. Mohamed and accompanied him on a tour around the new faculty building. During the tour, Dr. Mohamed was introduced to the new teaching methodologies adopted by the academic staff, in addition to the various activities carried out by the students.
The head of the syndicate expressed his admiration for what he had witnessed during the visit, especially the astonishing design of the new building and its cutting-edge facilities. At the end of the day, and as an expression of gratitude for his visit, Prof. Shereen handed Dr. Mohamed an appreciation plaque.