A huge Opening of the College of Dentistry Clinics
June 7, 2023
2023-07-19 10:55
A huge Opening of the College of Dentistry Clinics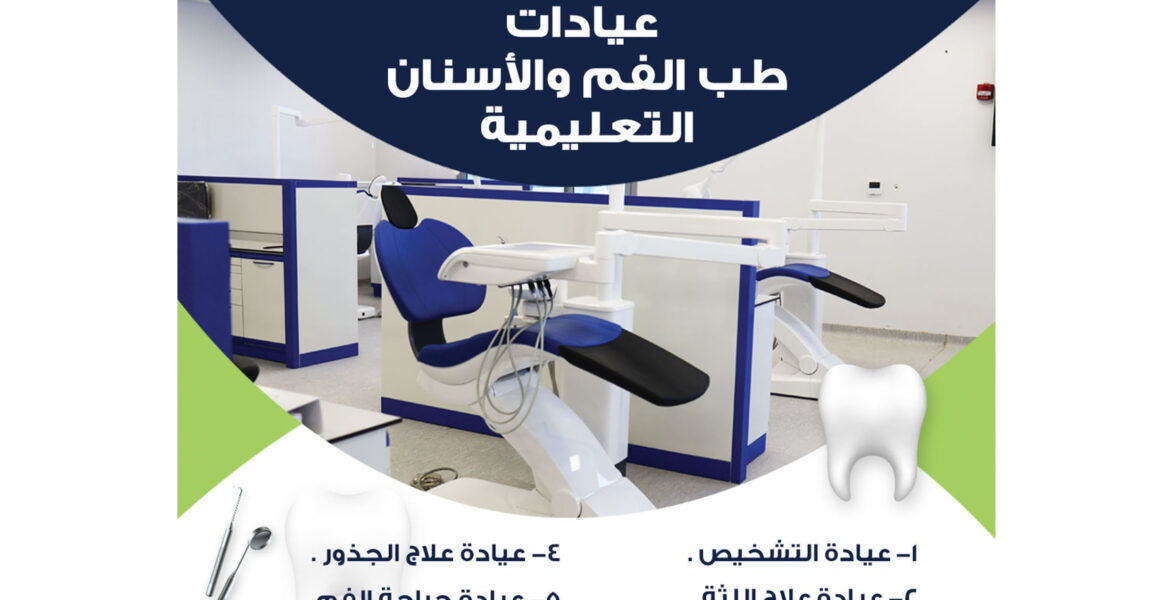 A huge Opening of the College of Dentistry Clinics
University's Commitment to Excellent Healthcare and Community Service
Opening of the College of Dentistry Clinics
Believing in the pivotal role of universities in providing outstanding healthcare services and contributing to the community, the Administration of the College of Dentistry is pleased to announce the opening of its clinics. Starting from Saturday, 6/10/2023, these clinics will operate daily from 10 am to 12 noon, offering curative and preventive services in various specialties, including surgery, gum diagnosis and treatment, fillings, root canals, and pediatric dentistry. Notably, these clinics are not only available to faculty members, students, and campus workers but also to the public for a nominal fee. It is worth mentioning that the treatment services will be provided by experienced teaching staff and faculty assistants.
Commitment to Excellent Healthcare and Community Service
The University's College of Dentistry firmly believes in its responsibility to provide excellent healthcare services to its community. Understanding the importance of oral health and its impact on overall well-being, the college has taken a proactive step to establish clinics within its premises. By doing so, the university aims to offer accessible and affordable oral healthcare services to its stakeholders and the broader community.
Comprehensive Services Offered
The newly opened clinics will provide a wide range of curative and preventive services. Expert dental professionals, including experienced faculty members and dedicated faculty assistants, will offer their expertise in various specialties. These include:
Surgery: The clinics will provide surgical treatments for oral and dental conditions that require intervention, such as extractions, dental implants, and jaw-related surgeries.
Diagnosis and Treatment of Gums: Patients with gum-related issues, including gingivitis and periodontitis, can seek specialized care and treatment from the clinics' dedicated professionals.
Fillings: The clinics will offer restorative treatments for dental cavities, using modern techniques and high-quality materials.
Root Canals: Skilled endodontists will perform root canal treatments, aiming to save and restore infected or damaged teeth.
Pediatric Dentistry: Special attention will be given to children's oral health, with a dedicated team experienced in handling pediatric dental care.
Accessible to Faculty, Students, Workers, and the Public
The clinics' services are not limited to faculty members, students, and campus workers alone. The Administration of the College of Dentistry recognizes the importance of serving the wider community. Therefore, individuals from the public can also avail themselves of the services provided, albeit for a nominal fee.
Emphasizing Quality and Expertise

The Administration of the College of Oral and Dental Medicine ensures that only highly qualified professionals provide treatment services in these clinics. Patients can have peace of mind knowing that their dental care will be entrusted to experienced members of the teaching staff and faculty's assistants. This commitment to excellence ensures that patients receive the highest quality care and enjoy optimal oral health outcomes.
Clinical training
Clinical training in dentistry is a necessary matter in dental education that requires assessment and research to support students' learning process.
At the College of Dentistry, there is concentrated clinical expertise covering all dental specialties. these unique features, such as an advanced surgery treatment unit, advanced endodontic microscopes, centralized sterilization system, and other specialty services, make the Dental Clinic an important resource to the general dental practitioners of the country.
The opening of the Oral and Dental Clinics within the College of Dentistry at our university exemplifies our dedication to providing excellent healthcare and community service. By offering comprehensive oral healthcare services to faculty, students, workers, and the public, we aim to enhance the well-being of individuals and contribute to a healthier community. With a focus on quality and expertise, our clinics are poised to deliver exceptional dental care that meets the highest standards. We invite everyone to take advantage of these clinics' services and experience the difference that our university's commitment to healthcare excellence can make.