A new Collaboration between Deraya University and Assiut University to Offer Professional Master's Programs
July 19, 2023
2023-07-19 10:55
A new Collaboration between Deraya University and Assiut University to Offer Professional Master's Programs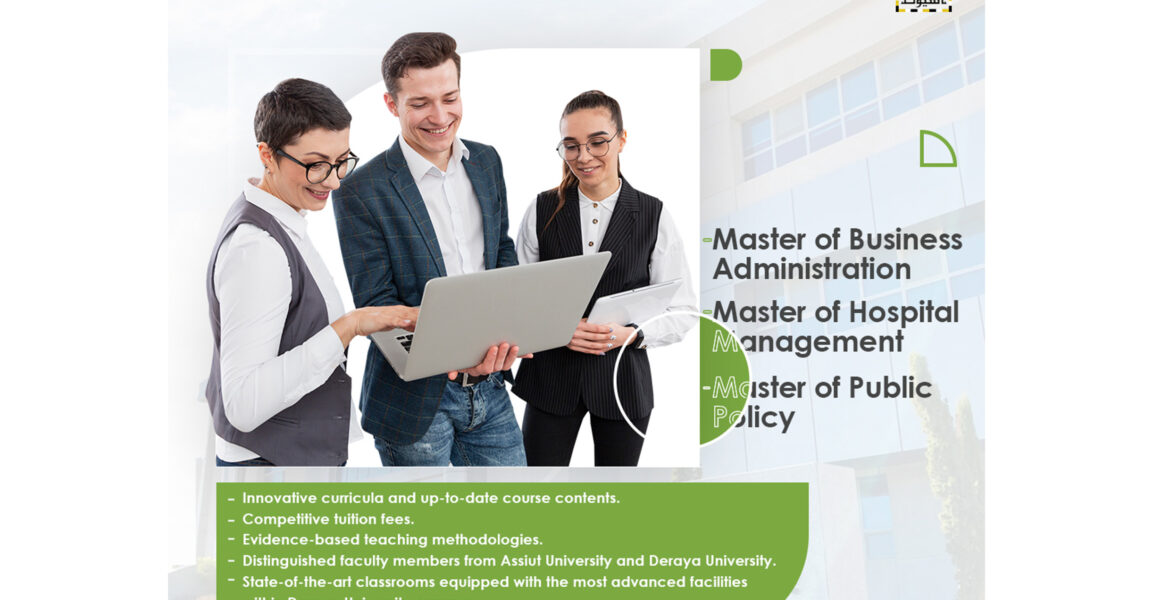 A new Collaboration between Deraya University and Assiut University to Offer Professional Master's Programs
(Public Policies and Evaluation of Development Projects – Master of Business Administration (MBA) – Master of Hospital Management)
Deraya University and Assiut University have recently signed an agreement on Sunday, June 4, 2023, marking a significant milestone in higher education collaboration. The agreement was signed in the presence of Prof. Dr. Alaa Ashmawy, President of Deraya University and Chairman of the National Authority for Quality Assurance in Education and Accreditation, and Prof. Dr. Ahmed El-Minshawi, President of Assiut University. The collaboration aims to provide professional master's programs at Deraya Business School in New Minya. This initiative aims to streamline the learning process and empower students to focus on their studies and achieve their career goals efficiently.
Key Benefits for Students:
Diverse Program Offerings: The agreement covers a range of study and professional programs, including:
Master of Business Administration – Master of Public Policies and Evaluation of Development Projects – Master of Hospital Management.
Professional Development: The programs are designed to prepare highly skilled administrative professionals who can contribute to the development and growth of institutions in Minya Governorate.
Language Options: Students have the flexibility to choose between Arabic and English as the language of instruction, ensuring accessibility for a diverse range of learners.
Open to Postgraduates: The programs welcome applications from individuals holding postgraduate qualifications in various disciplines such as science, engineering, medicine, tourism, law, administration, accounting, pharmacy, physiotherapy, and more.
Expert Faculty: The programs will be delivered by experienced professors from Assiut University and the Faculty of Business Administration at Deraya University, ensuring a high-quality learning experience.
Program Duration: The master's programs span two years, divided into four semesters, allowing students to delve deeper into their chosen fields and acquire comprehensive knowledge and skills.
To know more details about our Professional Master's Programs and the registration requirements, please visit our webpage by clicking on the following link.
What is a Master of Business Administration (MBA)?
This program offers a comprehensive curriculum covering essential business administration. Students gain knowledge and skills in areas such as finance, marketing, operations, strategic management, and leadership. The program is available in both English and Arabic, providing students with the opportunity to study in their preferred language. Upon completion of the studies, the graduate receives an accredited certificate from Assiut University.
What is a Master of Public Policies and Evaluation of Development Projects?
This program focuses on understanding and analyzing public policies and evaluating development projects. Students explore topics such as policy formulation, implementation, and evaluation, as well as project management techniques. The program equips students with the skills to assess the impact and effectiveness of policies and projects in promoting sustainable development.
What is a Master of Hospital Management?
The Hospital Management program is designed for individuals interested in pursuing careers in healthcare administration and management. Students learn about healthcare systems, organizational management, financial management, healthcare quality, and patient safety. The program prepares students to effectively manage healthcare facilities, improve operational efficiency, and enhance patient care.
These programs offer students specialized knowledge and skills in their respective fields, preparing them for successful careers in business administration, policy analysis, healthcare management, and insurance. Through a combination of theoretical knowledge and practical application, students gain the expertise necessary to excel in their chosen industries and contribute to the overall development and growth of their respective sectors. With a strong emphasis on quality education and practical application, these programs are tailored to meet the needs of aspiring professionals and provide them with the necessary skills to excel in their careers.
Don't miss out on this chance to enhance your expertise and contribute to the development of Minya Governorate. Apply now and embark on an enriching educational journey at Deraya Business School. Choose your best program and register now using this link.