Dentistry can be a rewarding and fulfilling career
August 27, 2023
2023-08-27 11:52
Dentistry can be a rewarding and fulfilling career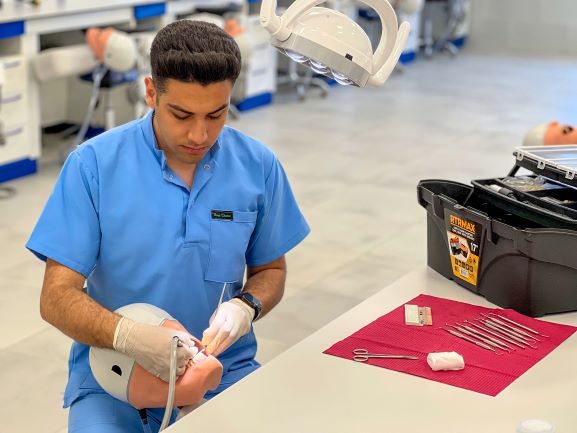 Dentistry can be a rewarding and fulfilling career
Dentistry
In today's world, healthcare professionals are more important than ever, and among them, dentists play a critical role in ensuring the overall health and well-being of a community. Dentistry is a rewarding and respected profession that offers a perfect blend of science, art, and human interaction.
Studying dentistry can be a rewarding and fulfilling career choice for several reasons:
Stable and Well-Paying Career: Dentistry is one of the highest-paying professions in the healthcare industry. It also offers job stability, as there is always a demand for dentists worldwide.
Flexibility: Dentistry offers a lot of flexibility in terms of working hours and setting up your practice. Many dentists choose to work part-time, and many run their private practices, giving them control over their work-life balance.
Interpersonal Interaction: Dentistry is not just about teeth; it involves a lot of interaction with people. If you enjoy working with people, this is a great profession as it allows you to interact with individuals of all ages and backgrounds.
Combination of Science and Art: Dentistry is a unique profession that combines aspects of science and art. Dentists must have a solid understanding of the human body and oral diseases, but they also need to have an artistic eye and a steady hand to create beautiful smiles.
Technological Advancements: The field of dentistry is always evolving with new technologies and techniques, making it an exciting and dynamic profession to be in.
Opportunities for Specialization: Dentistry offers a wide range of specialization areas, such as orthodontics, periodontics, pediatric dentistry, oral surgery, and more. This allows dentists to focus on the area they are most passionate about.
Global Opportunities: Dental degrees are recognized worldwide, which means you can practice dentistry in many different parts of the world.
Job Satisfaction: Many surveys and studies have found that dentists rank high in terms of job satisfaction. Helping people, receiving a good salary, having the flexibility to manage their work-life balance, and being respected in the community all contribute to a high level of job satisfaction.
Helping People: Dentists play a crucial role in helping people maintain their oral health, which is integral to their overall well-being. Helping someone get rid of a toothache, improving their smile, or preventing oral diseases can be immensely satisfying.
---
If you are considering a career in dentistry, Deraya University is the perfect place to start your journey.

Here are some compelling reasons why you should consider studying dentistry at Deraya University.
World-Class Faculty
Deraya University boasts a team of experienced and dedicated faculty members who are experts in their respective fields. Our professors are not only educators but also practicing dentists and researchers who are at the forefront of dental science. They are passionate about sharing their knowledge and experiences with students, and they provide personalized attention to ensure each student's success.
State-of-the-Art Facilities
Our dental college is equipped with the latest technology and state-of-the-art facilities to provide students with a hands-on learning experience. From simulation labs to fully equipped dental clinics, students at Deraya University get to practice and hone their skills in a real-world environment. This prepares them to handle various clinical situations with confidence and competence once they graduate.
Comprehensive Curriculum
The dentistry program at Deraya University offers a comprehensive curriculum that combines theoretical knowledge with practical skills. Our curriculum is designed to provide students with a solid foundation in dental science while also equipping them with the necessary skills to become successful practitioners. From basic sciences to clinical practices, our curriculum covers all aspects of dentistry, ensuring a well-rounded education for our students.
Research Opportunities
At Deraya University, we believe in the importance of research in advancing the field of dentistry. We encourage our students to participate in research projects and provide them with the necessary resources and support to conduct their own research. This not only helps in enhancing their knowledge and skills but also contributes to the development of new techniques and treatments in dentistry.
Community Involvement
Community service is an integral part of the dentistry program at Deraya University. Our students regularly participate in community outreach programs where they provide dental care to underprivileged communities. This not only helps in serving the community but also provides our students with an opportunity to gain valuable experience in dealing with various dental issues.
In conclusion, if you are looking for a rewarding, well-paying, and stable career that involves helping people, working with your hands, and keeping up with the latest technological advancements, dentistry could be an excellent choice for you. Choose Deraya University and Apply now using this link
For more inquiries, contact us via messages on our social media channels – Facebook & Instagram –