Art for Climate Initiative
November 13, 2022
2022-12-21 12:25
Art for Climate Initiative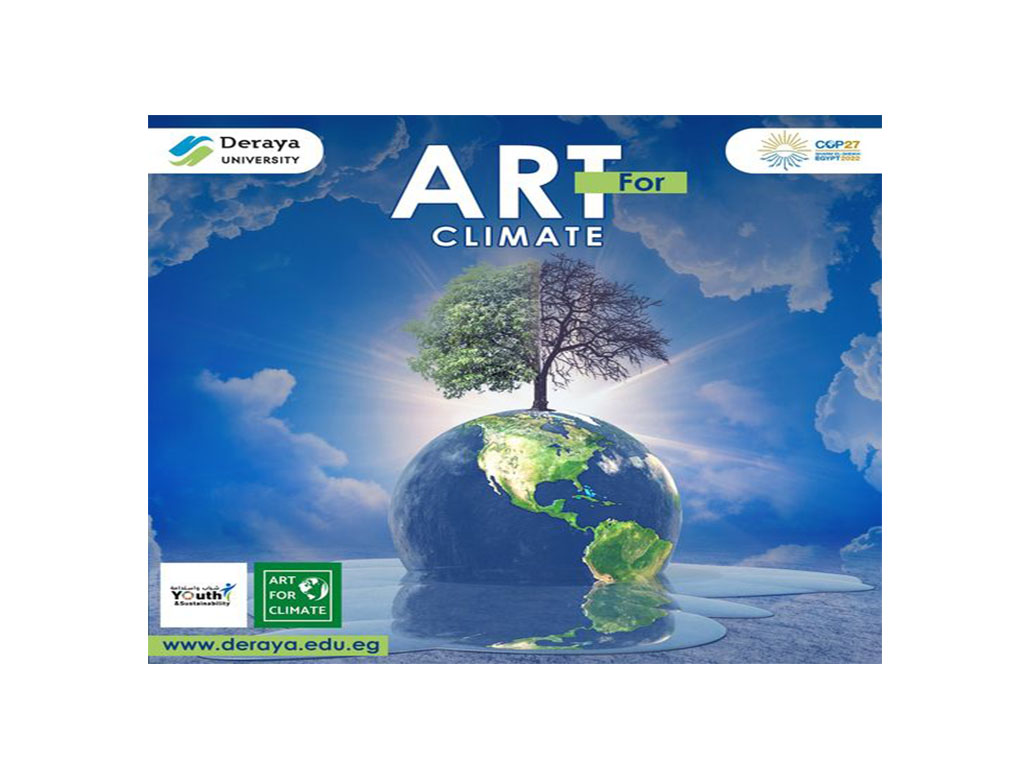 Art for Climate Initiative
"Art for Climate"
The clock is running down on our ability to head off the effects of climate change. Art is one of the best ways to make changes, build awareness, and support the environment in the world, and our life.
In conjunction with Egypt hosting the COP27 Climate Summit, Deraya University, in collaboration with the Youth and Sustainability Initiative, announces the launch of the "Art for Climate" exhibition to provide a platform for creative students to display proposed solutions to the climate change crisis through artwork. The cooperation reflects shared aspirations for human capacity development, enhanced awareness of different sustainability concepts and challenges, as well as localizing sustainable development goals to pursue a sustainable, inclusive society. "Art for Climate" is an initiative to paint and photograph with prizes of 5,000 pounds, a free course from Deraya Academy, a certificate of participation, and an invitation to join the initiative. All of this is because we always strive to unleash the spirit of art and creativity inside us and to shape with our hands a reality and a new and better future that will give us true happiness.
Rules of the competition;
The competition invites university students and photographers, faculty members, and administrators to create artworks that address the theme of climate change. 🌍✅️
Painting and Photography:
– Size not less than 29.7 * 42 cm "A3" and not more than 50 * 70 cm
– It is not permissible to repeat the work of a pre-executed person and it is permissible to resemble ideas.
Also, we want to mention the " Hack 4 Climate", Deraya team who represents the University in, the Ministry of Higher Education for Climate and is qualified for the final stage of the competition
Let us know more… what is COP27?
At the Sharm el-Sheikh Climate Change Conference (COP27), countries come together to take action toward achieving the world's collective climate goals as agreed under the Paris Agreement and the Convention. Building on the outcomes and momentum of COP26 in Glasgow last year, nations are expected to demonstrate at COP27 that they are in a new era of implementation by turning their commitments under the Paris Agreements into action. The conference is taking place from 6-18 November 2022 in Sharm el-Sheikh, Egypt. Heads of State and Governments attended the Sharm el-Sheikh Climate implementation Summit on 7 and 8 November.
As it stands today, we would argue that the biggest challenge lies with insufficient awareness of the importance of Clean sources and greening.
There are arguments about how green some products really are. However, the underlying problem is that big investors, in particular, do not put their hands on enough to support the greening. The clock is running down on our ability to head off the effects of climate change. Art is one of the best ways to make changes in the world and our life. It pushes the technology that may save humanity and build awareness of how individuals can make changes to their homes and car to reduce their own carbon footprint
History of greening the universe, Changes in climate
The Greening concept is to increase the level of awareness and financial flows from the public, private and non-profit sectors to sustainable development priorities.  A key part of this is to better manage environmental and social risks, take up opportunities that bring both a decent rate of return and environmental benefit, and deliver greater responsibility. It could be promoted through changes in countries' regulatory frameworks, harmonizing public financial incentives, increases in green financing from different sectors, alignment of public sector financing decision-making with the environmental dimension of the Sustainable Development Goals, increases in investment in clean and green technologies, financing for sustainable natural resource-based green economies and climate-smart blue economy, increase the awareness of Art for climate, and so on.
While the roots of green finance can be traced back to the 1970s, the tipping point of the sustainability movement didn't come until 2015, with the launch of the Sustainable Development Goals and the Paris Agreement. This year in November, the U.K. hosted the 26th United Nations Climate Change Conference of the Parties (COP26). Several organizations have recently announced their participation in the COP26 Finance Coalition Coordination Mechanism.
We can find many areas that focus on greening and sustainability in their current work in different fields.
World's participation in Changes in climate
UN Environment work with policymakers and private sector leaders to connect to green economy initiatives, also as we saw at Expo 2020 Dubai through Climate & Biodiversity program the way that we can work together to better manage climate change and protect biodiversity. The collaboration between DP World partners with UPS and the Arrival launching of UPS' regional Electric vehicle fleet, to deliver the world's most sustainable. Garnier Egypt makes collaborates with National Geographic as a One Green step in Expo 2020 Dubai
Garnier Egypt reveals our next green beauty milestone and commits to empowering 250 Million people to live greener. With content produced by national geographic creative workers by Netgeo, Garnier will give consumers access to expert knowledge and real-world advice.
In the latest years, the World Focused on changes in climate, and we see a lot of Initiatives that support climate change generally, Egypt especially did great efforts in this field not to support climate in Egypt only, but for the all universe.