Legendary "Upper Egypt Pharmacists Festival"
April 30, 2023
2023-05-01 9:03
Legendary "Upper Egypt Pharmacists Festival"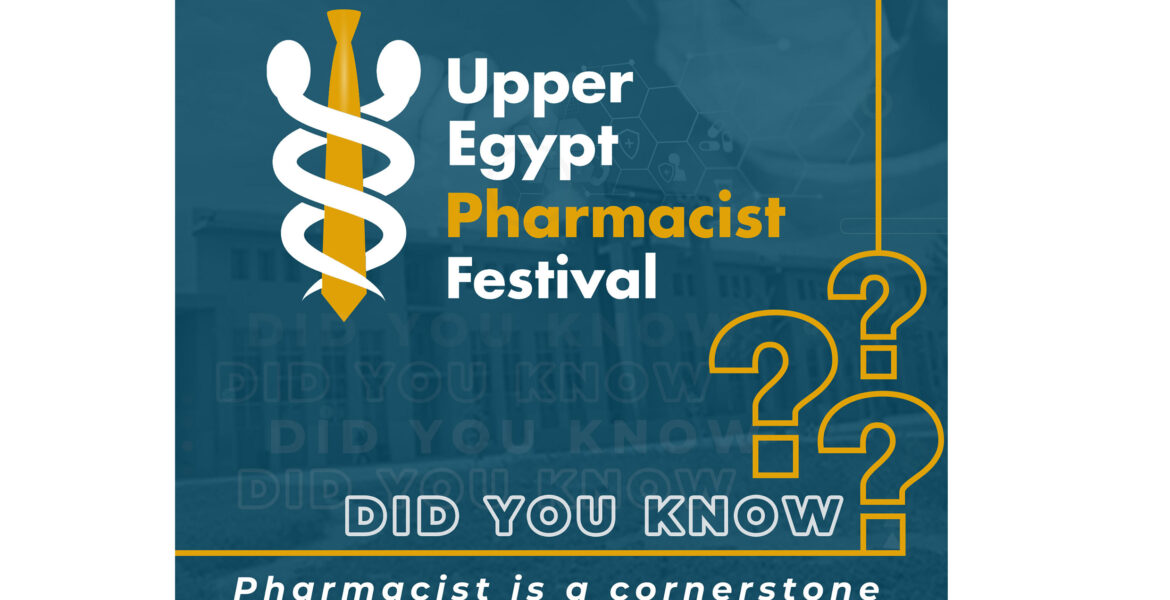 Legendary "Upper Egypt Pharmacists Festival"
Upper Egypt Pharmacists Festival
Pharmacy Students from various universities in Upper Egypt, (Minya – Beni Suef – Assiut – Sohag – Qena), are organizing the Upper Egypt Pharmacists Festival, which is the biggest event for pharmacy students and graduates in Upper Egypt. The festival is held in collaboration with various pharmaceutical organizations, administrative bodies, and Egyptian and international drug manufacturing companies.
The aim of the Upper Egypt Pharmacists Festival
The event aims to provide benefits to all pharmacy students in Upper Egypt by raising awareness about the work environment and professional life, as well as providing various workshops, lectures, and presentations by distinguished scientific figures and personalities in the field of pharmacy and drug manufacturing.
Moreover, the festival will include a job fair for pharmacists, with a large number of participating companies. The job fair will provide a unique opportunity for pharmacists in Upper Egypt to explore various job opportunities available in different work environments.
The festival's main goal is to build a community that is knowledgeable about all pharmacy categories (students, graduates, private and governmental bodies, and civil society organizations). It aims to display the competencies of Upper Egypt pharmacists and provide a large number of job opportunities and summer training programs for pharmacy students and graduates in Upper Egypt.
The festival also aims to provide a direct communication opportunity between students/graduates/pharmacy professionals in different organizations. It will also provide a chance for pharmaceutical organizations to advertise their various activities and their needs for students and graduates to work with them.
The festival aims to keep Upper Egypt pharmacists fully aware of all that is new in the field of medicine. It also seeks to shed light on the obstacles faced by pharmacists, find solutions to these obstacles, and work towards implementing them.
A job fair for Pharmacists
The job fair is an opportunity for pharmacists to meet and network with different companies and organizations that are looking to hire pharmacists. It provides pharmacists with information on various job opportunities, job requirements, and job descriptions. It also provides an opportunity for pharmacists to submit their resumes and cover letters to different companies and organizations that interest them.
The relationship between pharmacists and the local community in Upper Egypt is a vital one, as pharmacists play a crucial role in promoting public health and safety. The Upper Egypt Pharmacists Festival provides an excellent opportunity for pharmacists to strengthen their relationship with the local community.
One way the festival can strengthen this relationship is by providing education and awareness about the role of pharmacists in promoting public health. The festival offer lectures and workshops that educate the community about the importance of taking medication as prescribed, the proper use of over-the-counter medications, and the dangers of self-medication.
The festival also offers health screenings and consultations, where pharmacists can interact with members of the community and provide them with health-related advice and guidance. By offering these services, pharmacists can demonstrate their commitment to the health and well-being of the local community.
Overview of the Pharmaceutical Industry in Upper Egypt
The pharmaceutical industry in Upper Egypt continues to grow and expand, with many local companies producing a wide range of drugs, from generic medications to more specialized treatments for diseases such as cancer and diabetes. The industry also plays an important role in the country's economy, providing employment opportunities and contributing to the overall growth of the country.
Despite the challenges facing the industry, such as regulatory issues and competition from imported drugs, the pharmaceutical industry in Upper Egypt remains a vital part of the country's healthcare system. With ongoing investments in research and development, as well as efforts to improve manufacturing processes and promote local innovation, the industry is poised for continued growth and success in the years to come.
Register now to secure your spot and access a number of lectures and workshops. To register and participate, please visit the link.
Conference date: 14 &15 -5-2023
Location: Deraya University