A great IELTS Exam Preparation Course
April 25, 2023
2023-04-30 13:13
A great IELTS Exam Preparation Course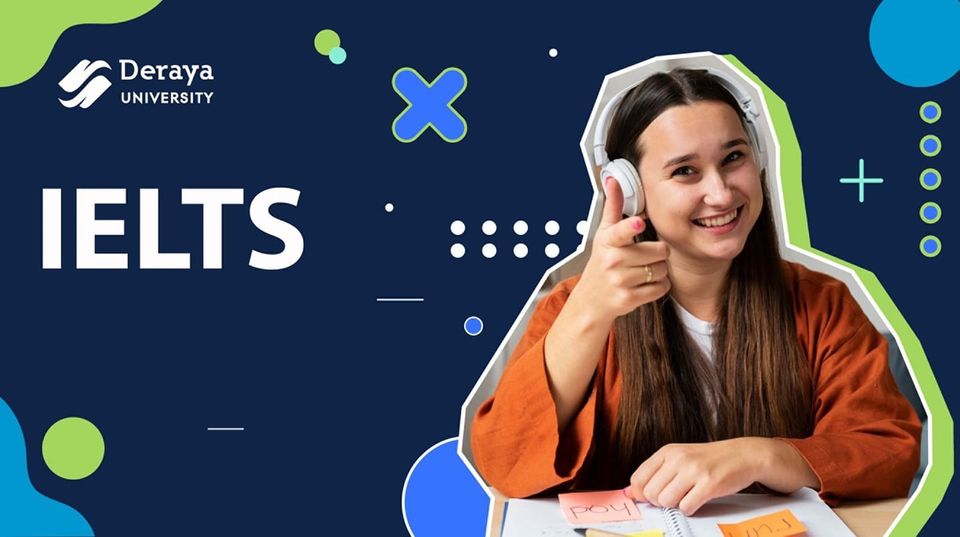 A great IELTS Exam Preparation Course
IELTS Exam and Preparation Courses
The International English Language Testing System, or IELTS, is a standardized test of English proficiency used for various purposes, including admission to academic programs and immigration purposes. IELTS is an essential requirement for non-native English speakers looking to study, work or live abroad. IELTS is a globally recognized English language proficiency test and is accepted by over 10,000 organizations worldwide, including universities, employers, and immigration agencies.
The test assesses the test taker's reading, writing, speaking, and listening skills in English. Preparing for IELTS can be a challenging process, and many students opt for IELTS preparation courses to help them achieve their desired scores. If you plan to take the IELTS exam, preparation is crucial. In Deraya Academy, we will discuss what IELTS is and why it is important, and also explore the benefits of IELTS preparation courses.
IELTS Exam Overview
The IELTS exam is designed to assess your proficiency in four language skills: Listening, Reading, Writing, and Speaking. IELTS is managed by the British Council, IDP: IELTS Australia, and Cambridge Assessment English. The test is available in two formats: Academic and General Training. The Academic format is designed for students who want to study at a university or college where English is the medium of instruction. The General Training format is intended for individuals who want to work, live, or study in an English-speaking country.
The Listening and Speaking sections are the same in both tests, while the Reading and Writing sections differ. The Listening section lasts for 30 minutes, while the Speaking section takes up to 15 minutes. The Reading section lasts for 60 minutes, and the Writing section takes 60 minutes as well.
The IELTS exam is scored on a nine-band scale. A score of 9 indicates that the candidate is an expert user of English, while a score of 1 indicates a non-user. Most institutions and organizations require a minimum score of 6.5 or 7, depending on the purpose of the test.
Preparation Courses for IELTS at Deraya Academy
Preparing for the IELTS exam requires time, effort, and dedication. The preparation courses can help you prepare for the exam and improve your chances of success. Preparation courses for the IELTS exam are designed to help candidates improve their language skills and become familiar with the test format and requirements.
Duration of the course: 36 hours ( 6 sessions)
Benefits of Preparation Courses
Taking preparation courses for the IELTS exam offers several benefits. First, these courses help candidates become familiar with the test format and requirements. This includes understanding the types of questions that will be asked and the time limits for each section. Familiarity with the test format and requirements can help candidates feel more confident and less anxious on test day.
Second, preparation courses help candidates improve their language skills. This includes developing vocabulary, grammar, and sentence structure, as well as improving listening and speaking skills. Language improvement can have a positive impact on overall academic and professional performance.
Third, preparation courses provide candidates with feedback on their performance. This feedback can help candidates identify their strengths and weaknesses and focus on areas that need improvement. This can lead to more efficient and effective studying.
Fourth, preparation courses can help candidates develop test-taking strategies. These strategies include time management, guessing, and eliminating wrong answers. Test-taking strategies can help candidates maximize their scores and improve their chances of success.
Finally, preparation courses offer candidates the opportunity to practice their skills and test-taking strategies. This includes taking practice tests and receiving feedback on their performance. Practice tests can help candidates become more comfortable with the test format and requirements and can help identify areas that need improvement.
Choosing a Preparation Course
Choosing a preparation course for the IELTS exam can be challenging, as there are many options available. When choosing a course, it is important to consider your goals, budget, and learning style.
Consider your goals: Are you taking the IELTS exam for academic or immigration purposes? What is your target score? Knowing your goals can help you choose a course that is tailored to your needs.
Consider your budget: Preparation courses can be expensive, so it is important to consider your budget when choosing a course. 
For Registration visit this link