A new Collaborative Protocol with Baheya Hospital
February 19, 2023
2023-02-19 14:29
A new Collaborative Protocol with Baheya Hospital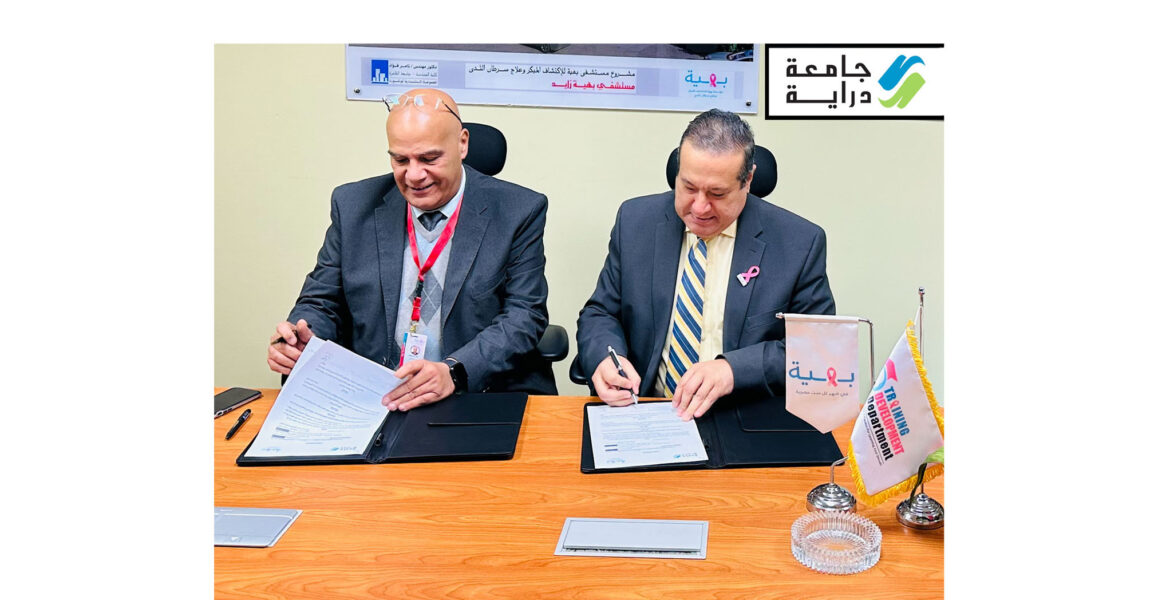 A new Collaborative Protocol with Baheya Hospital
Breast cancer is a leading cause of death among women worldwide, with a high incidence rate in Egypt. To address this issue, Daraya University in Egypt has partnered with Baheya Hospital to develop a collaboration protocol for breast cancer treatment training. The protocol aims to train students from various colleges in different therapeutic departments of the hospital, providing them with a unique opportunity to gain hands-on experience and knowledge in breast cancer treatment.
The signing of the collaboration protocol took place on February 9, 2023, and was attended by Dr. Alaa Ashmawy, the president of Daraya University, and Dr. Khaled Abu El-Enein, the general manager of the Baheya Foundation. The signing was also attended by Dr. Norhan Hesham Shady, the leader of the (FOC), Dr. Omina Hesham, the assistant leader of the FOC, and Dr. Ahmed Anwar, the head of the Clinical Pharmacy Department at Baheya Hospital.
Benefits of the Collaboration Protocol
The collaboration protocol provides many benefits to both the students and the hospital. Students will have the opportunity to work with experienced medical professionals and receive training in a real-world clinical setting. This practical experience will help students to better understand the complexities of breast cancer treatment and develop the skills and knowledge necessary to excel in the field.
The collaboration protocol also benefits Baheya Hospital by providing access to new ideas and approaches to breast cancer treatment. Students from various colleges and therapeutic departments bring unique perspectives and expertise to the hospital, promoting innovation and advancing the quality of care provided to patients.
Importance of Collaboration in Breast Cancer Treatment
Collaboration is essential to the development of effective breast cancer treatments. Breast cancer is a complex disease that requires a multidisciplinary approach to treatment. By bringing together medical professionals from different fields and areas of expertise, a collaborative approach can lead to the development of new and innovative treatments.
Baheya Hospital's partnership with Daraya University is an example of the importance of collaboration in breast cancer treatment. Through this collaboration, students from various therapeutic departments will work together with experienced medical professionals to develop new and innovative approaches to breast cancer treatment.
Future Implications of the Collaboration Protocol
The collaboration protocol between Daraya University and Baheya Hospital has the potential to lead to new breakthroughs in breast cancer treatment. By promoting Researching, innovation, collaboration, and training. The protocol can help to accelerate the discovery of new and effective treatments for breast cancer.
In addition, The collaboration protocol has the potential to make a significant impact on breast cancer treatment in Egypt. By training a new generation of medical professionals in breast cancer treatment, the protocol will help to improve the quality of care provided to patients with breast cancer.
The Collaborative Protocol between Daraya University and Baheya Hospital is a fantastic opportunity for both institutions to work together and combine their expertise to advance research, improve patient care, and ultimately make a positive impact on the health and well-being of the community.
Baheya's story started when Mrs. Baheya Wahby, a lady from a prominent Egyptian family, was diagnosed with cancer back in the 1990s. Because she went through the same experience she felt for the fighters and especially the less privileged women, being unable to afford the treatment, she wished to help fight the disease and poverty. After losing her life in the battle, her family then decided to convert her house into a charity hospital supporting women, specializing in early detection and treatment for breast cancer free of charge. Baheya foundation was established in 2015.
This collaboration is one of Daraya University's community efforts to achieve its mission as dedicated to providing high-quality training opportunities to its students and community members. One of the key areas of focus for Daraya University is providing practical, hands-on training in various fields.
In addition, Daraya University has established partnerships with several organizations and institutions, both locally and internationally, to provide its students with access to a wider range of training and learning opportunities. These partnerships also help the university stay abreast of the latest trends and best practices in different industries and sectors.