A great Agreement of Cooperation
October 17, 2023
2023-11-07 10:58
A great Agreement of Cooperation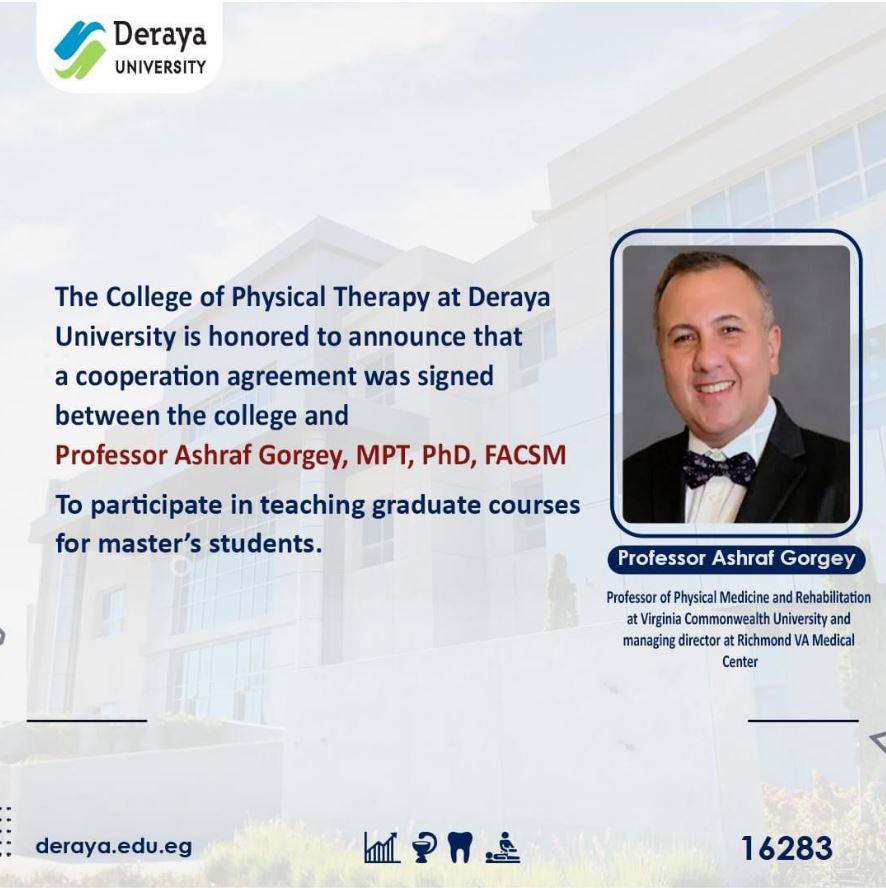 A great Agreement of Cooperation
A great Agreement of Cooperation Between
and
The College of Physical Therapy at Deraya University in Egypt, represented by the dean, and professor Ashraf Gorgey of Virginia Commonwealth University in the United States of America, entered into this agreement of cooperation, for the purpose of exploring further cooperation in teaching graduate courses in physical therapy at Deraya University.
Courses that Dr Ashraf Gorgey will participate in fall within his areas of expertise,
they include, but are not limited to Electrotherapy and Research Methodology.
Who is Dr. Ashraf Gorgey?
Professor Ashraf Gorgey, MPT, PhD, FACSM
Professor of Physical Medicine and Rehabilitation at Virginia Commonwealth University and managing director at Richmond VA Medical Center
was signed in September 2023. According to the agreement, Professor Gorgey will participate in teaching graduate courses to master's students.
This academic year, Professor Gorgey will deliver 7 lectures in Research Methodology (3-Credit Hours, Fall 2023), and 7 lectures in Electrotherapy: Evidence-Based Practice (2-Credit Hours, Spring 2024) for master's students in Basic Science and Orthopedic departments at Deraya University. 
Ashraf Gorgey Receives 2020 ACRM Distinguished Member Award. Ashraf S. Gorgey, MPT, PhD, is the recipient of the 2020 American Congress of Rehabilitation Medicine (ACRM) Distinguished Member Award. This national award honors a rehabilitation researcher who has significantly contributed to national leadership, research achievement, and ACRM public service.
Dr. Gorgey and his research team develop rehabilitation interventions that increase mobility and reduce health-related complications following SCI. In particular, he evaluates the effectiveness of using epidural stimulation and exoskeletons to increase exercise and health following SCI. And initial results have been promising.
"We published an important case report that showed 12 weeks of exoskeleton training coupled with epidural stimulation of the spinal cord may enhance motor recovery in a person with C7 motor complete SCI," said Gorgey.
His research team's method of delivering non-invasive epidural stimulation for the purpose of helping people with SCI walk is highly regarded as innovative with the potential for promising results. And the U.S. Department of Defense-Congressionally Directed Medical Research Program for SCI agrees. They have recommended funding a $3.6M clinical trial grant to VCU CERSE led by Dr. Gorgey to study providing noninvasive epidural stimulation while using an exoskeleton to improve walking.
The major goals and objectives of Dr. Gorgey's current research studies are as follows:
To develop and test the safety and feasibility of a home-based upper limb rehabilitation program for individuals with tetraplegia
To determine the effects of electrical stimulation plus vitamin D supplementation on bone health in persons with chronic SCI
To determine the effects of epidural stimulation (ES) followed by resistance training (RT)
To determine the effects of epidural stimulation compared to trans-spinal stimulation on gait parameters, cardiovascular function, and bladder capacity during 6 months of exoskeletal assisted walking in persons with chronic SCI
To determine the effects that testosterone and long pulse width stimulation have on denervated muscles after spinal cord injury.
For more information about Professor Gorgey, please check this link
Collaboration in teaching graduate classes to master's students at the College of Physical Therapy at Deraya University in Egypt.
These courses are as follows:
Research Methodology (3 credit hours), 1st Semester, starting November 1st, for seven weeks.
Electrotherapy: Evidence-Based Practice (2 credit hours), 3rd Semester, starting January 2nd, for seven weeks.
All lectures will take place during the weekend (Saturday and Sunday) and will be delivered online. Dr Gorgey will be responsible for the student's assessment of the parts he is responsible for teaching for a particular semester. Students' assessment includes formative exams, in-class exams, midterm exams, practical exams, and final exams.
At Deraya University's College of Physical Therapy, we are constantly striving to provide our master's students with world-class education. One way we achieve this is through our esteemed collaboration with Ashraf Gorgey, MPT, PhD, FACSM FACRM, in teaching graduate classes. This partnership brings manifold benefits to our students:
Global Perspective: Dr. Ashraf Gorgey's vast international experience and expertise lend students a broader and more comprehensive understanding of the subject matter.
Evidence-Based Learning: Especially in the course "Electrotherapy: Evidence-Based Practice", students gain insight into the latest research-based practices, ensuring they are updated with cutting-edge techniques.
Practical & Theoretical Balance: Dr. Gorgey's practical knowledge, combined with academic rigor, ensures students receive a balanced education – understanding both theoretical concepts and their real-world applications.
Research Methodology Mastery: Under Dr. Gorgey's guidance in the "Research Methodology" course, students gain an in-depth understanding of research processes, tools, and methodologies, equipping them to undertake significant research endeavors in the future.
Networking Opportunities: Collaborating with such a recognized figure in the field provides students with the chance to expand their professional network, opening doors to potential future collaborations or career opportunities.
Enhanced Engagement: Having an external expert introduces a fresh teaching style and perspective, which can reinvigorate students' engagement and interest in the courses.
Interdisciplinary Approach: Dr. Gorgey's diverse background allows for an interdisciplinary teaching approach, helping students connect the dots across various subjects and enhancing their overall learning experience.
In essence, this collaboration underlines Deraya University's commitment to enhancing the quality of education for its students, ensuring they are well-prepared to lead in the field of Physical Therapy both nationally and internationally.