A new big event "American Embassy Cultural Exchange Office Visits Deraya University for Scholarship Sessions"
November 11, 2023
2023-11-11 15:44
A new big event "American Embassy Cultural Exchange Office Visits Deraya University for Scholarship Sessions"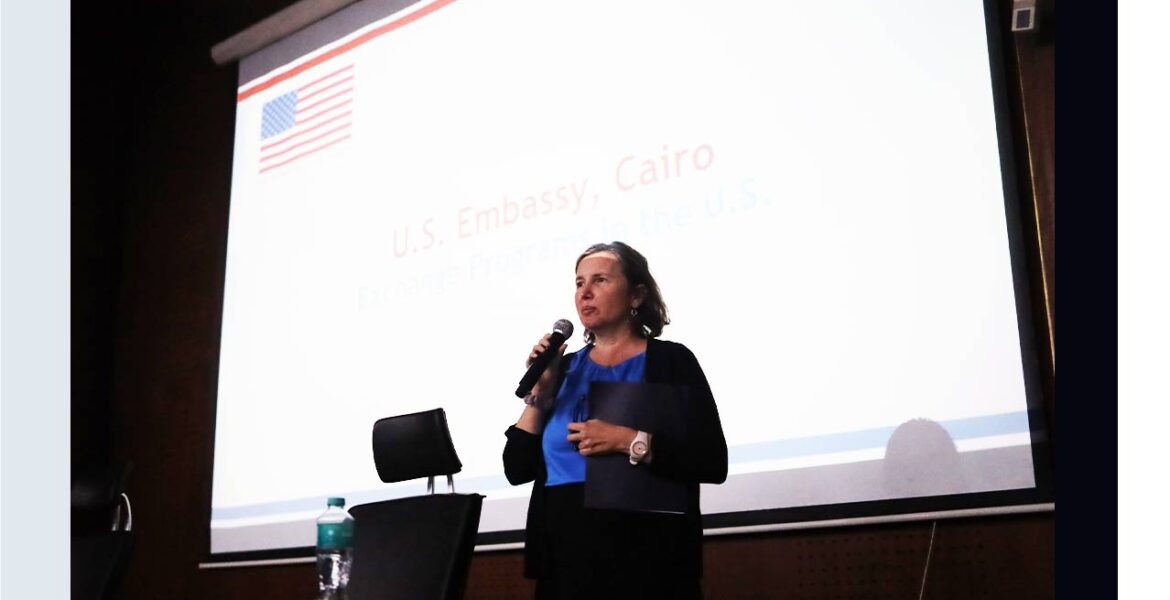 A new big event "American Embassy Cultural Exchange Office Visits Deraya University for Scholarship Sessions"
Minya, Egypt – On the morning of Tuesday, November 7, 2023, Deraya University welcomed the Office of Cultural Exchange, Exchange Programs, and Scholarships from the American Embassy in Cairo. This significant visit marks a unique opportunity for students, graduates, faculty members, and administrative staff of the university to gain in-depth knowledge about the various scholarships fully funded by the United States government.
A Day of Learning and Opportunities
The event was unfolded in two parts at the university's auditorium, catering to different audiences within the university. The first session, the Student Seminar, took place from 11 AM to 12 PM. This session is tailored specifically for the student body and recent graduates, providing them with valuable insights into the available scholarship opportunities, application processes, and the potential benefits of studying in the United States.
Following this, the Academic and Administrative staff Seminar was planned from 12 PM to 1 PM. This segment was designed for the university's esteemed faculty and administrative members. It aims to explore avenues for professional development, research collaborations, and how they can benefit from these scholarship programs.
Bridging Cultures and Expanding Horizons
The Office of Cultural Exchange, a key component of the American Embassy in Cairo, plays a pivotal role in strengthening educational and cultural ties between Egypt and the United States. By providing detailed information on fully funded scholarships, this visit is expected to pave the way for enhanced academic collaborations and cross-cultural understanding.
An Emphasis on Education and Exchange
These sessions are not merely about scholarship information dissemination; they represent a deeper commitment to educational exchange and cultural diplomacy. The US government's scholarships are renowned for their emphasis on empowering individuals through education, fostering global leaders, and building bridges between diverse cultures.
Preparing for a Global Future
For Deraya University, this event is more than just an informational session; it's a gateway for its community to global education opportunities. It reflects the university's dedication to preparing its students and staff for an increasingly interconnected world, where international exposure and cultural exchange are invaluable.
International Cooperation Office at Deraya University is Foster Global Educational Partnerships
At the heart of Deraya University lies a vibrant International Cooperation Office (ICO), dedicated to cultivating and enhancing global educational partnerships.
Bridging Academic Cultures
The ICO at Deraya University serves as a vital link between the university and institutions worldwide. Its primary goal is to foster collaborative relationships that enrich the academic experience for students and faculty alike.
Programs and Initiatives
Student Exchange Programs: The ICO facilitates exchange programs that allow students to study abroad, offering them exposure to different academic environments and cultures.
Cultural Exchange Events: Understanding that education extends beyond the classroom, the ICO organizes various cultural events and programs, promoting intercultural understanding and appreciation among the university community.
The International Cooperation Office at Deraya University is more than just a facilitator of programs and partnerships; it's a dynamic catalyst for change, preparing the Deraya community to thrive in a globalized world. The office's efforts ensure that students and faculty are not only globally competent but also culturally sensitive, and equipped to contribute positively in a diverse international landscape.
The visit by the Office of Cultural Exchange from the American Embassy is a testament to the strong educational bonds between Egypt and the United States. It is an invitation for the curious minds at Deraya University to explore new horizons and become part of a global network of scholars and professionals. As the university played up for this event, there was a palpable sense of excitement and anticipation among its community members, who are keen to unlock the doors to new opportunities and possibilities.
This visit aims to capture the essence and importance of the events at Deraya University, highlighting its significance for the university community and the broader educational relationship between Egypt and the United States.